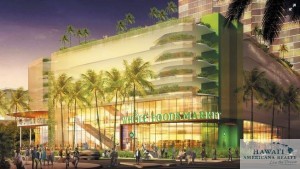 The Howard Hughes Corp. plans to start construction on its mixed-use condominium that will include Whole Foods Market's flagship Hawaii location in the Honolulu neighborhood of Kakaako on Thursday, the Texas-based developer said.
Located at 1001 Queen St., at the corner of Queen and Kamakee streets behind the Ward Entertainment Center, Aeo will include 466 units and a 54,000-square-foot Whole Foods Market store on the ground floor.
The tower and organic supermarket chain will replace Office Depot on the block that used to also house a Nordstrom Rack, which has relocated within Ward Village.
During Halloween, a retailer selling costumes and other items for the late October holiday took the former Nordstrom Rack space, but has since closed.
The Howard Hughes Corp.'s (NYSE: HHC) 60-acre Ward Village includes two mixed-use luxury residential towers — Waiea and Anaha — that are now under construction, as well as Aeo, Gateway Towers and Ke Kilohana at 988 Halekauwila St, which will include a Longs Drugs store.
Duane Shimogawa
Reporter
Pacific Business News