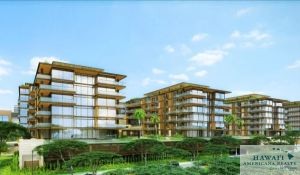 Park Lane Ala Moana, the $1 billion luxury condominium project being built by a trio of Honolulu firms — Kobayashi Group, The MacNaughton Group and BlackSand Capital — along with landowner General Growth Properties Inc., is well over 75 percent sold, an executive from one of these firms told PBN.
Prices for the project, which was first reported by PBN, range from $1 million to at least $20 million.
Park Lane, which started construction in the summer of 2014 at Ala Moana Center's new Ewa wing, could be completed sometime this year.
Located at 1388 Ala Moana Blvd., the seven eight-story buildings will each be 100 feet tall. offering a total of 215 units ranging in size from 850 to 6,000 square feet. The complex will also include two floors of residential parking, two-and-a-half floors of commercial parking and amenity spaces, plus one commercial unit. Monthly maintenance fees will be up to $7,500, according to public records.
While Park Lane is moving full speed ahead, another luxury condo project by The MacNaughton Group and Kobayashi Group in the Honolulu neighborhood of Kakaako on land owned by Kamehameha Schools called Vida 888 at Ala Moana, isn't.
The developers also won't be developing the other three-acre site that it had an option to buy from the state's largest private landowner.
The Kobayashi Group and The MacNaughton Group also plan to build another luxury high-rise in Waikiki at the King's Village site.
Ian MacNaughton, partner at The MacNaughton Group, told PBN it has been calling buyers at Vida to see if they may be interested in buying at its Waikiki project.
"We are honored to have very interesting projects to work on," he said. "We are very fortunate that sales at Park Lane are strong. We are very fortunate of that."
Kamehameha Schools has not said what it plans to do with those two three-acre sits that are pegged for luxury high-rise condos as part of its "Our Kakaako" mixed-use neighborhood plan.
Duane Shimogawa
Reporter
Pacific Business News