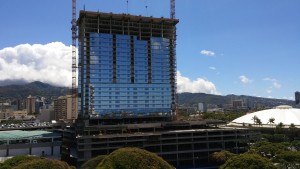 The Hawaii Community Development Authority on Wednesday delayed until next week making a decision on a "glass rule" for Kakaako high-rise projects regarding an issue with OliverMcMillan's Symphony Honolulu mixed-use condominium tower.
The board of the state agency regulating development in the Honolulu neighborhood was to vote on a decision at a meeting on Wednesday, but after a little more than an hour of deliberating in executive session, the board's chair, John Whalen, said members needed more time to come to a decision.
The HCDA decided to continue the hearing, which could include a decision on the glass rule, to Aug. 12 at 1 p.m.
Symphony Honolulu is currently being built at the corner of Ward Avenue and Kapiolani Boulevard across from the Neal S. Blaisdell Center, and is expected to be completed in less than a year.
OliverMcMillan is requesting that the HCDA waive or permanently suspend the existing glass rule as it pertains to its Symphony project, as well as suspend the rule for Kakaako in general. The glass rule requires that current condo projects in Kakaako have a measured visible light transmission level of at least 50 percent.
Symphony is being built with a visible light transmission level of less than 50 percent. The project's development permit was approved for the current glass that is being installed, although the HCDA did not take into account the area's glass rule.
The San Diego-based developer said that the implementation of the glass rule has resulted in an unfortunate set of circumstances preventing development projects from satisfying HCDA-mandated minimum energy savings under the current set of rules.
"The unintended consequences of the glass rule places it in a direct conflict with and contrary to the goals and requirements of the Mauka Area Rules' Green Building Section, which mandates that projects meet at least the base LEED standards," OliverMcMillan said in its testimony to the HCDA. "The glass rule has unintentionally imposed an undesirable development pattern on Kakaako projects, mandating the use of glass that is far less energy efficient than other readily available alternatives. This directly conflicts with the Green Building section of the authority's rules, increasing every project's drain on [their] natural resources by raising the cooling costs for all buildings in Kakaako."
The developer also said that the glass rule makes it impossible for a project with a window-wall design, such as Symphony Honolulu, to meet both the glass rule and the required LEED minimum.
"The rule also states to provide views out of and into the building," OliverMcMillan said. "This is particularly discouraging to future residents looking to live in Kakaako as any planned buildings will be located in an area already occupied by other high-rises."
Those who testified against the changing of the glass rule contend that it may set precedent for other developers, and that OliverMcMillan should have followed the rules.
Duane Shimogawa
Reporter
Pacific Business News