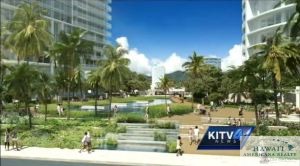 2 high-rises with 236 residential units, commercial space
HONOLULU —The Howard Hughes Development Corporation unveiled its plans for the redevelopment of the Ward Warehouse shopping center.
The company plans to erect two high-rise towers with 236 residential units and commercial space.
Plans also call for open space, a recreational area and 548 parking stalls.
The two story Ward Warehouse complex was built in 1975 and its redevelopment will displace a number of small businesses.
The transformation of the four-acre parcel will bring the most dramatic change to Kakaako.
It's being called the Ward Village Gateway.
The Howard Hughes Development Corporation plan calls for two towers for a total of 236 residences, along with townhomes, two parking structures and commercial space.
The most significant feature will be a one-acre park–a grand central plaza with a promenade and that will open views to the ocean where there are currently none
"This project is going to create a one-acre park connecting mauka to makai, Kewalo Harbor all the way to the planned rail stop at Ward Village. It's going to create improved street scapes with wide sidewalks, bike lanes and new retail space along Auahi Street," said Nick Vanderboom, Vice President of Development.
The company's plans will displace about 50 merchants at Ward Warehouse
It has begun meeting with tenants to see who can be relocated now.
"We are working closely with our tenants about relocation possibilities. We have intentionally held space within Ward Center and we are already in talks with some of them to relocate within Ward Village," said Vanderboom.
It was during the presentation before the HCDA board that the company acknowledged it is considering adding a third tower but it's not ready to say much about those plans just yet.
"There may be a third on that parcel but that would be consistant with the master plan though," said, Senior Vice President David Striph.
The company isn't also ready to say much about pricing of its units.
It did however signal that construction of the two Gateway Towers will take place around the same time that it moves forward with the construction of another tower at the corner of Ward and Halekauwila streets.
It was last year that the HCDA gave the green light for the more affordable reserve units project planned for the old Dixie Grill lot.
The company has been exploring whether it can build affordable rentals instead of for sale units.
Howard Hughes plans to ask for four modifications to the area rules for its Gateway tower project.
It is asking the Hawaii Community Development Corporation to increase the building platform to 65 feet and to be given a break on the 15-foot setback requirement.
A public hearing on the proposed changes will be held on Oct 2.
Read more: http://www.kitv.com/news/twin-towers-planned-for-ward-warehouse-site/28358680#ixzz3Gx3ktrB6