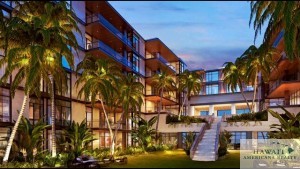 HONOLULU (HawaiiNewsNow) –
Lines are forming for prospective buyers interested in a new luxury Kakaako development.
It's called "Park Lane Ala Moana" and it's a contrast to towering high rises surrounding the shopping center.
Park Lane Ala Moana stands out in a sea of highrises.
Director of Sales Matthew Pakkala explained the difference this way, "Amenities, luxuries and securities of high rises you see in the background and combine those with the graciousness of Hawaii single family living."
"This is very different than a high rise" added BlackSand Capital Managing Partner Ian MacNaughton. "This is a horizontal development featuring 6 onclaves and communities surrounding those onclaves."
Park Lane's seven, six story buildings feature 215 luxury residences, ranging from 850 square foot one bedrooms to 6-thousand square feet 5 bedroom penthouses.
All feature Hawaiian style indoor outdoor living.
Pakkala said, "The reasons we call these Island residences is because they mimmick that Hawaii home that envelops the entertainment area in the center."
BlackSand Capital Managing Partner BJ Kobayashi added, "They're much more like single family homes than condominiums. What I mean when I say that is most or many of those ground floor units have 2 car garages, lawns, pools, and jacuzzis."
There are 90 plus different layouts, with asking price from 1.1 million to 28 million for the 5-bedroom penthouse.
Tomorrow 107 residences go on the market for owner occupants.
Unrestricted sales started in November– with a surprising buying trend.
According to MacNaughton, "We're very proud to say that 75 percent of those buyers have local Hawaii addresses."
The first residents will move in late next year.
http://www.hawaiinewsnow.com/story/27816023/luxury-island-style-residences-going-up-beside-ala-moana