Sales for units in a new 40-story condominium being built across from the Blaisdell Center have begun, according to the project's developer.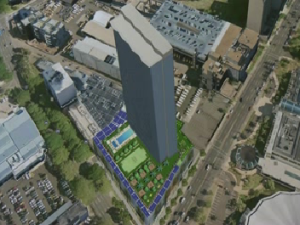 When completed, the Symphony Honolulu condos will have a total of 388 residential apartments in a 400-foot tower at the corner of Ward Avenue and Kapiolani Boulevard.
"We believe there is strong demand for a range of market-priced and reserved housing in the urban core of Honolulu," said Dan Nishikawa, president of OliverMcMillan Pacific Rim, the developer of Symphony Honolulu.
The condominium apartments include 288 market-priced residences and 100 reserved housing units. The market price ranges from the low $500,000s for a one-bedroom residence, the mid $600,000s for two bedrooms, and from the high $800,000s for three bedrooms.
Nishikawa says the Symphony Honolulu supports the vision of the Kaka'ako Development Plan to create an urban community where residents can live close to their jobs, and walk to recreational centers.
[contact-form-7 id="2075″ title="Contact Us_Symphony"]