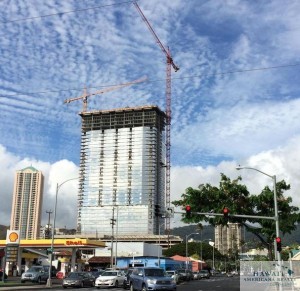 A Hawaii agency's decision to let San Diego-based developer OliverMcMillan proceed with its Symphony Honolulu condominium tower without making changes to the building's glass curtain came down to a standard it could not defend, the agency board's chief told PBN.
"It would've been just suits and countersuits," John Whalen, chair of the Hawaii Community Development Authority, told PBN after Wednesday's decision. "It would've been a total mess. If we had a standard that we could defend, it would be a different story."
The HCDA, which regulates development in Kakaako, reached a $1 million settlement this week with OliverMcMillan over the agency's existing "glass rule" for its Symphony Honolulu condo tower, which is being built at the corner of Kapiolani Boulevard and Ward Avenue across from the Neal S. Blaisdell Center. The building has a completion date scheduled for March 2016.
"They offered it right before the hearing," Whalen said, noting that he would like to have the money address the concerns that were brought up regarding the glare coming from the windows. "My first thought is to use it to plant a lot more trees and create park space because it helps mitigate the heat effect."
The glass rule requires that current condo projects in Kakaako have a measured visible light transmission level of at least 50 percent, but the glass installed on the Symphony project has a visible light transmission level of less than 50 percent, which has prompted testimony about glare.
"Not sure if they self-reported, but when asked to supply data [regarding the glass windows], they admitted that they haven't complied," Whalen said. "That's what the developer had apologized for."
OliverMcMillan accepted the state agency's decision, agreeing to add $1 million to its existing public facilities dedication fee, which now stands at $3.6 million. The HCDA also ruled that OliverMcMillan must reimburse the state agency for $24,000 in consulting services and pay a $2,000 fine for failing to correct the violation.
"How do you make something beneficial out of a really nasty situation?" Whalen asked. "It's sort of like, our point is not to inflict pain, but solve problems."
He admits that the glass rule is a procedural and regulatory issue that needs to be addressed.
Next month, the HCDA will hold public hearings to address a glass issue for another Kakaako condo, which was developed by Downtown Capital LLC.
However, Whalen pointed out that the circumstances dealing with the 801 South St. affordable condo project are somewhat different from the Symphony project, mainly because the glass windows are much smaller at 801 South St.
"It's [still] non-compliance of a standard," he said.
Duane Shimogawa
Reporter
Pacific Business News