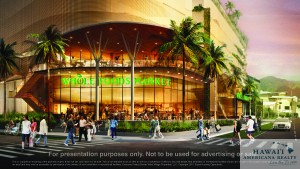 SEE CORRECTION AT THE END OF THIS ARTICLE
The Howard Hughes Corp. says it may "adjust" the sales price of its remaining condominium units in its Aeo mixed-use residential project in Honolulu in response to the high demand and interest seen since an initial lottery began last month for the project, which will include Whole Foods Market's new Hawaii flagship store.
An e-mail sent by Ward Village Residential Sales Director Dwight Synan to prospective buyers said the new prices will take effect on Aug. 10. He also noted that all of the studio units in Aeo, which had a starting price of $405,016, were sold out.
He said people who have already expressed interest in the project can purchase a unit at the old price before the price increase takes effect.
As it is currently proposed, The Howard Hughes Corp. (NYSE: HHC) has said the 466-unit complex will also include 60,000 square feet of retail spaces. Construction on the project, which will be built on the Office Depot and former Nordstrom Rack site behind the Ward Entertainment Center complex, is slated to be complete by 2018.
Under the new price list, prices for one-bedroom units will start at $817,000. Initially, the starting price for those units was $573,000, but all the lower-priced units have sold out. Prices for two-bedroom units will start at $1.04 million, instead of the previous $860,000 since those lower-priced units have also sold out. Prices of three-bedroom units will start at $1.76 million.
Some real estate industry experts say the decision to increase prices is not a surprising one and are the result of demand for more housing options.
"It's uncommon, but it is market driven, and we have an uncommon market relative to the rest of the world," Ricky Cassiday, real estate economist from Data@Work, told PBN in an email. "Hawaii residential property can be very volatile, especially on the upside. Historically, we have seen price appreciation at double-digit increases."
Jon Yamaguchi, president and CEO of his Yamaguchi & Yamaguchi Inc. real estate appraisal and consulting services company, said the big question now is what type of role will speculative buyers will eventually have on the market.
"Those are the ones who are going to hurt the market because we've seen it before," Yamaguchi said. "If you're spread very thin, you don't have the financial backing, and you're banking on flipping it, but it doesn't happen because there's too much supply, then you're going to have all of these guys who are going to start dumping and that's when you start having a falloff market."
Construction also is continuing on the Texas-based developer's Waiea and Anaha mixed-use towers nearby, which are slated to be finished at the end of 2016 and the second quarter of 2017, respectively. Meanwhile, the design process is being finalized for the master planned community's 988 Halekauwila project, which will have 375 one-, two- and three-bedroom affordable units and is slated to be complete by 2019.
CORRECTION
The story has been revised to clarify that the lower-priced units have sold out.
Darin Moriki
Reporter
Pacific Business News