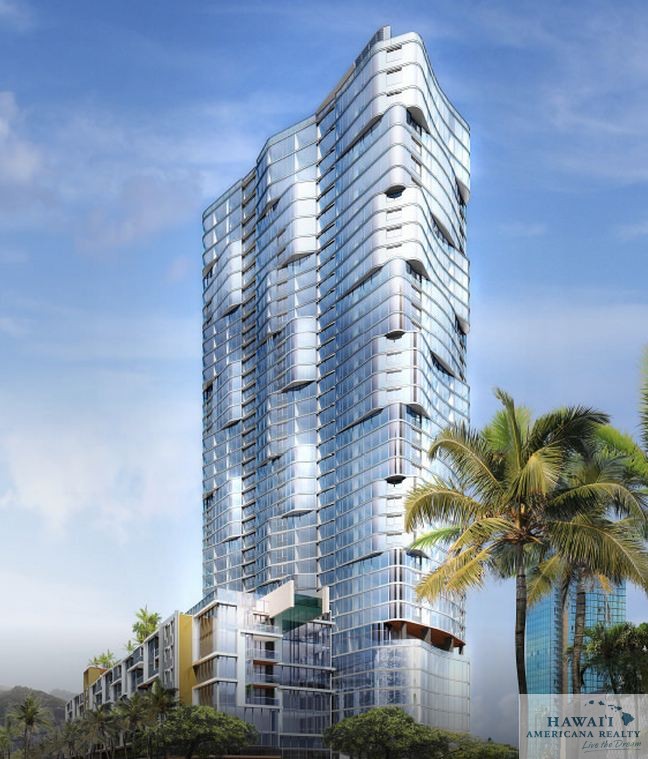 The Howard Hughes Corp. said Monday that 88 percent and 78 percent of the units in its two luxury condominiums in Kakaako — 171-unit Waiea and 311-unit Anaha — werre under contract as of Feb. 1, according to the Dallas-based developer's 2014 annual report.
Located on a former surface parking lot fronting Ala Moana Boulevard, diagonally across from Anaha's site, Waiea is expected to be completed by the end of 2016.
Anaha, which is located on the former Pier 1 Imports site, is anticipated to be completed in 2017, The Howard Hughes Corp. (NYSE: HHC) said.
As of Feb. 1, it has received $155.8 million in buyer deposits for Waiea and Anaha, which represent $854.4 million of contracted gross sales revenue.
Both towers are expected to cost about $804 million to develop.
The developer recently closed on $1.3 billion of property financings and refinancings, including a $600 million construction financing for Waiea and Anaha.
ONE Ala Moana, a 206-unit luxury condo located on Nordstrom's parking garage, which was developed in a joint venture involving The Howard Hughes Corp., The MacNaughton Group and Kobayashi Group, closed on the sale of 201 of its units in the fourth quarter.
During 2014, the Texas-based developer also entered into a 20-year lease with Whole Foods Market to open a flagship store as part of a residential project in Kakaako.
Additionally, The Howard Hughes Corp. got approvals for the Ward Gateway condo towers to be built where Ward Warehouse is now located.
The company reported a profit of $111 million in 2014, up slightly from a profit of $109 million in 2013.
In the fourth quarter, it reported a profit of about $22 million, down from $44.4 million the same quarter in 2013.
Duane Shimogawa Reporter – Pacific Business News