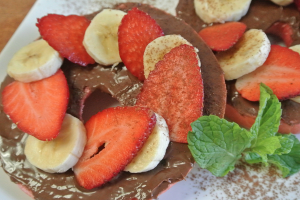 The owner of Lox of Bagels is opening a new cafe called Cafe Grace on the ground level of the Imperial Plaza condominium, next to a Vietnamese restaurant, in the Honolulu neighborhood of Kakaako next week, the manager told PBN.
Manager Naomi Salomon said that Cafe Grace will serve bagels, coffee and desserts.
The cafe will open to the public at 1 p.m. on Aug. 14, Salomon said. Its regular hours will be from 7 a.m. to 4 p.m., Monday through Friday, Saturdays from 7 a.m. to 3 p.m. and closed on Sundays.
Lox of Bagels, which moved into a bigger location at the Kokea Center in Honolulu on Dillingham Boulevard a few months ago, plans to close down its original location at Sand Island at the end of this month, Salomon said.
The bagel and coffee shop was founded by Lester and Irene Yonamine, who grew the business from a startup to where it is today.
In 2007, Lox of Bagels was acquired by Kiku International, an American subsidiary of a logistics, supply and human resource company based in Japan, with the intention of solidifying Lox of Bagels' position as a leading wholesale supplier of fresh bagels.