Nov 20, 2013, 2:58pm HST
Duane Shimogawa Reporter  |  Pacific Business News
OliverMcMillan Pacific Rim LLC began construction Wednesday on its 388-unit, 45-story Symphony Honolulu mixed-use condominium tower at the corner of Kapiolani Boulevard and Ward Avenue, across from the Neal S. Blaisdell Center in Honolulu's Kakaako neighborhood.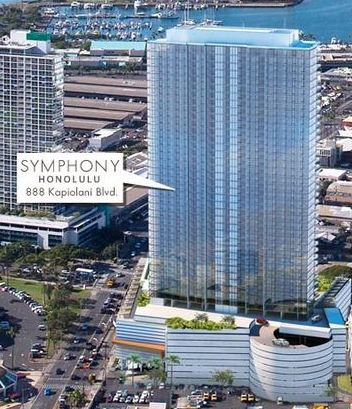 More than 150 people attended a groundbreaking ceremony for the project, which is located on 3.35 acres at 888 Kapiolani Blvd.
"Kakaako is a very exciting urban location, offering so much in exciting activities, location and culture," OliverMcMillan CEO Dene Oliver said in a statement. "We've created spacious, artfully designed condominiums that appeal to the Hawaii market and where residents can make a home for years to come."
Earlier this month, the developer said that First Hawaiian Bank is the lead bank among four lenders on a $120 million construction loan for the project.
Other lenders included Central Pacific Bank, American Savings Bank and the Washington Capital Joint Master Trust Mortgage income fund.
The condo tower will include market-rate and reserved residential units, as well as commercial space on the lower floors, including an automobile showroom for JN Automotive Group.
San Diego-based OliverMcMillan expects construction of Symphony Honolulu to take about 25 months to complete.
About 70 percent of the available units were sold within the first two days of sales, which began in June.