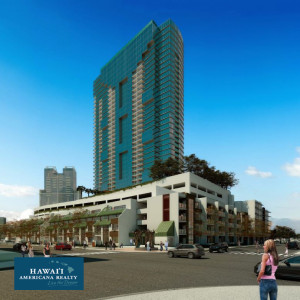 Hawaii developer Stanford Carr's Keauhou Lane project, which includes 388 residential units in a 400-foot high-rise tower, along with 35 townhouse units in a 42-foot mid-rise tower, is slated to start construction in late March or early April, the developer told PBN Tuesday.
Alakea Design Group and Richard Matsunaga & Associates are the architects and Hawaiian Dredging Construction Co. Inc. is the general contractor for the project.
In an exclusive interview with PBN on Tuesday, Carr talked about how he feels the transformation of the Honolulu neighborhood of Kakaako is going, as well as updates on his projects across the state, including Keauhou Lane.
A sales office for the project recently opened at a former U.S. Department of Housing and Urban Development office at Waterfront Plaza in Downtown Honolulu.
"We're just giving the consumer options," Carr said of his project. "The people that come in are local families, couples. There must have been 40 people at one time that I've seen. It's exciting and there's lots of energy [at the sales gallery]."
Sales of Keauhou Lane, which will include a Honolulu rail transit station, are expected to begin the first of January.
"We're closing on our construction loan [soon], and we're already going for [building] permits," Carr said.
The block at 500 South St. and 500 Keawe St., includes a project being developed by Oregon-based developer Gerding Edlen on behalf of landowner Kamehameha Schools.
That project includes 209 residential units in a 65-foot mid-rise building and 39,145 square feet of ground-floor commercial space.
"There's already pent-up demand from the last four years, starting in 2008," Carr said of the housing market in Hawaii. "What The Howard Hughes Corp. is offering satisfies a sector, what [Alexander & Baldwin Inc.], us and Marshall Hung are offering also satisfies a sector of the market.
"Hawaii's got a bright future ahead of itself," Carr said. "We have seen the cycles of the last 30-plus years. History will repeat itself. There's a lot more confidence [these days]."
Duane Shimogawa Reporter – Pacific Business News