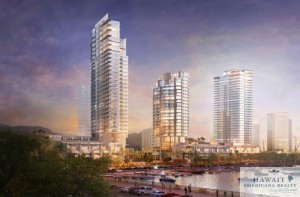 Dreams are merely plans, blueprints, aspirations until that moment when they receive validation. Even the best-made plans can be waylaid by things large and small. But on November 25, 2014 Ward Village got the confirmation that its second-phase plans for its state-of-the-art master-planned neighborhood will become a reality. On this day, the Gateway proposal, which will feature 236 residences and 200,000 square feet of retail in two mixed-use towers abutting a one-acre green space stretching to Kewalo Basin Harbor, was approved by the Hawaii Community Development Authority.
Designed by Richard Meier & Partners, an architecture firm that excels in everything from single-family homes along the ocean to landmark civic spaces such as the Getty Center in Los Angeles, Gateway is bringing a whole new level of architecture to the South Shore of Oahu in collaboration with executive architect, Architects Hawaii, and a team of local consultants. One tower will jut like a blade into the skyline; its partner, a shimmering cylindrical building, will reflect the location's transition from the downtown grid to Waikiki. Between the two, a green space will flow with water, walkways, and native plants, acting as a gathering place for the community. Together, Gateway—which will feature a variety of residences, from two-story villas to sprawling penthouses—will be the welcoming point and landmark of Ward Village.
Also part of this second phase approved by HCDA is a flagship 50,000 square-foot Whole Foods and additional retail space. Phase two will bring significant economic growth, green space, and amenities to the community that works, plays, and soon lives in Ward Village.When partygoers weren't spellbound by artists, musicians, and hula dancers, or wrapped up in conversation, they hit the buffet. Guests dined on a sumptuous array of island favorites, including a poke and oyster bar from Oahu's Poke Stop; cuisine inspired by traditional luau fare from Hale Aina Catering; and delicate tropical desserts from MW Restaurant.
The day, from bright and early at 8 a.m. until the sun set and the last of the event-goers headed home, was a true celebration of the story of Anaha, and the traditions that shape our unique island home.