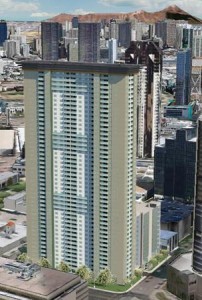 Some landscaping is still being installed, but construction is finished on a Kaka­ako high-rise that represents the latest in a wave of condominium towers coming to the area.
New homeowners in the 635-unit tower called 801 South St. Building A are slated to move in starting June 1, joining a growing population of residents in the urban Hono­lulu neighborhood undergoing major change.
Marcus and Sara Hayden, University of Hawaii employees who married in August, signed papers to complete their purchase in 801 South A on Saturday, making them first-time homeowners. On Monday they inspected their soon-to-be home on the third floor of the 47-story tower at the corner of South and Kawai­ahao streets.
"We're excited," said Marcus Hayden, 37, as he checked out the two-bedroom, 800-square-foot unit with his wife and parents. "Nervous and excited."
The Haydens, who are moving from a downtown Hono­lulu high-rise rental apartment, will soon be joined by many others calling Kaka­ako home.
Five more condo towers are under construction nearby, including a neighboring sister tower called 801 South Building B. And several more are gearing up to break ground or obtain development permits in what is shaping up to be the biggest wave of new high-rise development in Kaka­ako, where there have been two previous major tower development booms.
Since the Great Recession ended six years ago, only one other condo tower in Kaka­ako was started and completed. That was Wai­ho­nua at Kewalo on Wai­manu Street, which is between the older Ko'o­lani and Hawa­iki towers and was completed in November. Hale­kau­wila Place, a rental building for low-income residents developed with state assistance, also was completed last year.
At 801 South, local affordable-housing developer Marshall Hung of Downtown Capital LLC used a "workforce housing" rule of the Hawaii Community Development Authority, a state agency regulating development in Kaka­ako, to build the two towers with extra density in return for making at least 75 percent of units affordable to residents with moderate to high-moderate incomes.
Prices for studios to two-bedroom units in the first tower range from about $250,000 to $500,000.
Both 801 South towers were limited to Kaka­ako's maximum 400-foot height. Some of the extra density was used to create two 11-story stand-alone parking garages on the site.
Ryan Harada, a principal with Downtown Capital, said an effort was made to soften the look of the garage by adding frosted glass windows on three corners of the structure and metal grills covering other openings.
"I think it looks nice, for an 11-story parking garage," he said.
Hayden said the garage will keep his home cool with shade. "I don't mind the parking structure being there," he said. "I'm happy."
Hayden also found out that the unit, which he bought for $414,000 with two parking stalls, was appraised by his lender at $480,000. Hayden and his wife expect to sell the unit in about 18 months or so to move into a larger unit in 801 South B that Sara Hayden contracted to buy before getting married. The neighboring tower is slated to be finished late next year.
By Andrew Gomes
http://www.staradvertiser.com/businesspremium/20150414_A_highrise_in_Kakaako_has_been_newly_completed_with_owners_set_for_a_June_movein.html?id=299657491