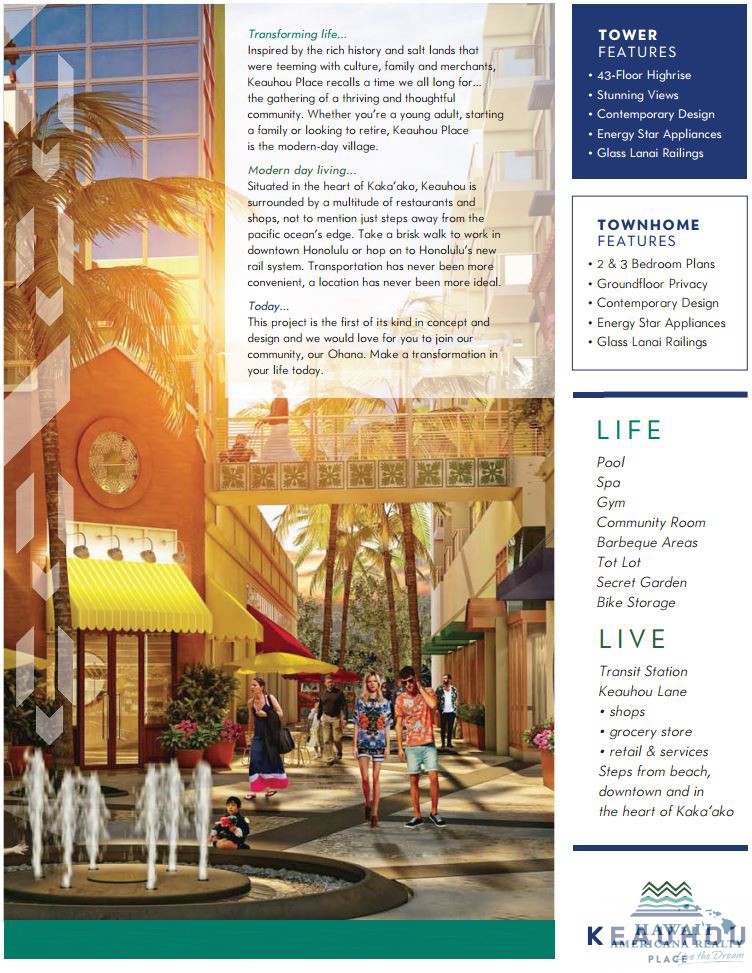 Inspired by the rich history and salt lands that were teeming with culture, family and merchants, Keauhou Place harkens back to a time we all long for… the gathering of a thriving and thoughtful community. Whether you're a young adult, starting a family or looking to retire, Keauhou Place is the modern-day village. Situated in the heart of Kakaako, Keauhou is surrounded by a multitude of restaurants and shops, not to mention just steps away from the pacific ocean's edge. Take a brisk walk to work in downtown Honolulu or hop on to Honolulu's new rail system. Transportation has never been more convenient, a location has never been more ideal. 
Contact us below for further details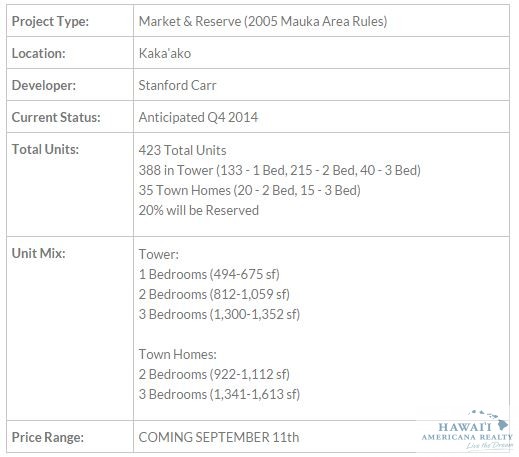 Keauhou Place will feature 388 residential units in a 400-foot high-rise building, along with a mix of 35 townhouse units in a 42-foot mid-rise tower, as well as 2,854 square feet of ground-floor commercial space, 1,038 square feet of vehicle stalls, 13,000 square feet of open space and 31,400 square feet of recreation space. 20% of the units are anticipated to be Reserve Housing units.  (To learn more about how your buyers can qualify, please see the Reserved Housing 2005 Mauka Area Rules FAQ's for more information).
Running through the middle of the site is Keauhou Lane, a pedestrian retail/dining lane that hopes to be a focal point of the neighborhood. It's named after a historical Hawaiian lane that once ran through the property meaning "New Era".  Sales and construction are expected to begin in 2014. HCDA approved the project on 5/1/14.1
From the press release:
An estimated 40 percent of the housing units at Keauhou Lane will be reserved for middle-income workers. Renters can earn up to 100 percent of Honolulu's median income, and fee simple buyers can earn up to 140 percent to qualify. Overall, the project is being designed for the local market.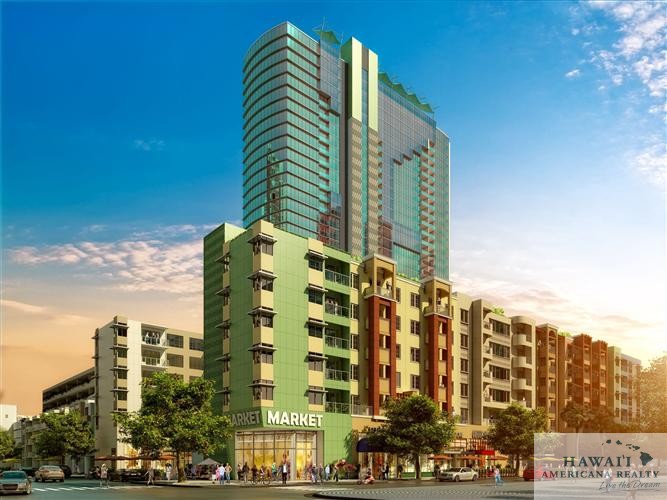 "I commend Kamehameha Schools and Stanford Carr Development for their efforts to build a residential community for the people of Hawai'i, and fulfilling our goal of making Kaka'ako a diverse and accessible environment," said Governor Neil Abercrombie. "Kaka'ako is a vital component of Hawai'i's economic development plan, where local families will be able to live, work and play in Honolulu's urban core."
Offering a wide selection of well-priced units, Keauhou Lane will provide a variety of choices for individuals, couples and families interested in living within one of urban Honolulu's most exciting new mixed-use neighborhoods. It is located on the block bound by South, Halekauwila, Keawe and Pohukaina Streets, also known as "Block A" of the Kamehameha Schools' Our Kaka'ako master plan.
Development work for Keauhou Lane will be a collaboration between Stanford Carr Development and Kamehameha Schools. Stanford Carr's portion will comprise approximately 93,002 square feet of the property and include a 40-story tower called Keauhou Place, as well as a parking structure for all uses on the block that will be lined with townhomes along South and Pohukaina Streets. Kamehameha Schools' plans for approximately 69,387 square feet of the property include live-work units, rental apartments and ground floor commercial. Combined, the projects are anticipated to contain almost 50,000 square feet of recreational spaces for the project residents, as well as over 65,000 square feet of open spaces, including fully landscaped sidewalk areas enhanced with features consistent with the City's "complete streets," making KS's overall vision of a walkable neighborhood come to life.
"This master planned, neighborhood block is designed for the local market. We are excited to have this opportunity to work with KS and continue to be a part of the new urbanism of Kaka'ako with this latest development endeavor," said Stanford Carr Development president Stanford Carr. "Our goal is to bring out the history of this wonderful area, celebrating it through architecture. The diversity of architectural vernaculars that will be layered into the neighborhood will be influenced by historical eras in Hawai'i as well as modern architecture."