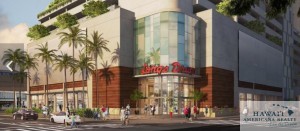 Longs Drugs will open a new Hawaii location in Ward Village's 988 Halekauwila mixed-use tower in Kakaako that's scheduled to be ready for occupancy in 2019, Howard Hughes Corp. executives confirmed to PBN on Tuesday.
"It's something that has always been on our wish list for quite some time," Katie Kaanapu, community and retail marketing director for The Howard Hughes Corp. (NYSE: HHC), told PBN. "It's in a really central location, so it's easy for our residents and visitors to access, whether they are coming by rail, or walking or biking to the area."
As it is currently proposed, the 23,000-square-foot, full-service Longs Drugs store will be located on the ground floor of 988 Halekauwila, which will have 375 one-, two- and three-bedroom reserved affordable housing units.
The store will be located across the street from the future Kakaako Station for Oahu's elevated-rail mass-transit system.
"Ward Village is committed to making Honolulu a better place for our local community to live, work, shop and play," Nick Vanderboom, senior vice president of development for The Howard Hughes Corp., said in a statement. "This new Longs Drugs will allow Ward Village residents and other members of the nearby community to comfortably meet their daily needs with greater convenience."
Though an opening date has not been set, Kaanapu said the entire 988 Halekauwila project is slated to be complete in 2019. Designs for the building are being finalized, she said.
Last week, the Hawaii Community Development Authority gave its approval for the project to proceed with 424 for-sale units, including 375 reserved units. Earlier, it had rejected The Howard Hughes Corp.'s request to turn them into rental units.
Construction also is continuing on the Texas-based developer's Waiea and Anaha mixed-use towers, which are slated to be finished at the end of 2016 and the second quarter of 2017, respectively.
Meanwhile, condominium sales have begun for The Howard Hughes Corp.'s 466-unit Aeo project, which is scheduled to be complete in 2018.
Darin Moriki
Reporter
Pacific Business News