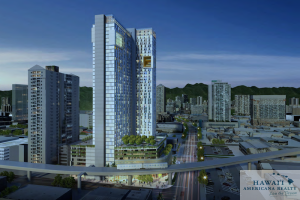 Today Howard Hughes Corp announced our revised plans for the 988 Halekauwila project that, if approved by the Hawai'i Community Development Authority (HCDA), would provide more affordable rentals to residents in urban Honolulu. The Howard Hughes Corporation submitted a motion to the HCDA for the option to allow the previously approved for-sale residences at 988 Halekauwila to be built as workforce rentals. If approved, Ward Village will be able to offer homes to a significant number of local families and individuals earning 80 to 100 percent of the area median income (AMI). The building would be Honolulu's largest affordable rental development in decades.
"Ward Village is master-planned to provide quality homes for owners and renters at different income levels," said David Striph, senior vice president of Hawai'i for The Howard Hughes Corporation. "We want local individuals and families who live and work in the area to find their future home at Ward Village and are requesting this change to help fulfill the need for workforce housing in Honolulu, offering more local residents the opportunity to live in a master-planned neighborhood complete with community amenities."
The 988 Halekauwila project is currently approved as for-sale and would be reserved for residents making 100 to 140 percent of the AMI. Rental units, which are available to those with lower average median incomes making 80 to 100 percent of the AMI, help meet the community's need for long-term affordable housing. For a single person, 80 to 100 percent of AMI equates to an annual salary of $53,700 to $57,820. This offers greater affordability than the for-sale option for individuals making up to 140 percent of AMI, which equates to an annual salary of $80,948. The change to offer units as rental will not change the number of reserved housing units – 375 – offered by the project. It will also extend the period of affordability required for the units from two to five years (for-sale) to 15 years (for-rental).
"The addition of affordable rentals for our local community is a positive step in the right direction," said Rev. Bob Nakata, Co-Chair of the Housing Task Force for Faith Action for Community Equity. "This request is a positive sign that developers and the HCDA are beginning to pay attention to and working to build what the community needs."
Ward Village's 988 Halekauwila project exceeds the number of units required by the HCDA for Phase One of the Ward Village Master Plan by three times the amount. Located on the mauka-ewa corner of Ward Avenue and Halekauwila Street, 988 Halekauwila is an integral component of the Ward Village Master Plan and will feature one-, two- and three-bedroom workforce housing residences within walking distance of shopping, entertainment, parks, beaches and the revitalized Kewalo Harbor. The building will target LEED certification as part of Ward Village, which is certified as the state's only LEED for Neighborhood Development (LEED-ND) Platinum-Certified community.
Ward Village will offer a four acre privately-maintained public park, complete streets with wide, shaded, pedestrian-friendly sidewalks and bike lanes and is in close proximity to existing bus lines and the future Ward Village rail station. Retail located on the ground floor of the building will provide convenient shopping options for the residents
Moving ForWard March Newsletter
http://us8.campaign-archive1.com/?u=7a647eabb433c20dfbade3136&id=b114fc2b4c&e=f26031cf9d