An outstanding and sophisticated residential resort Park Lane Ala Moana elevates the experience of gracious Hawaii living. This is a new residential lifestyle beyond what the islands, and possibly, the world have seen before.
Single family-style homes that seamlessly flow from indoors to outdoors, intimately connected to the ocean, the city, and a world-class shopping mall.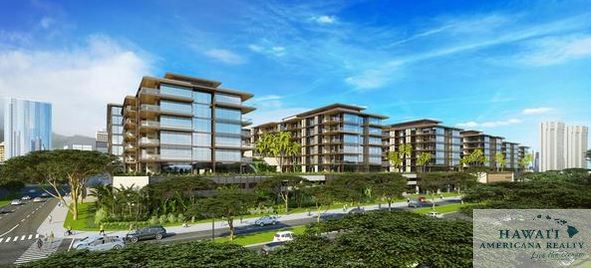 The seven ultra-luxury condominium towers planned for what is now a parking area of Ala Moana Center fronting Ala Moana Boulevard now has a name, Park Lane Ala Moana, and a development cost of about $300 million, according to public records.
Located at 1488 Ala Moana Blvd., the developers of the project, The MacNaughton Group, Kobayashi Group, BlackSand Capital, and landowner General Growth Properties (NYSE: GGP) recently pulled a building permit with the City and County of Honolulu that has an estimated value of $300 million.
The permit also says that there will be 215 luxury residences, two floors of residential parking, 2.5 floors of commercial parking and amenity spaces.
The "Park Lane Ala Moana" trade name was filed with the state on Feb. 25 by AMX Partners LLC, which lists Ian MacNaughton as its manager.
MacNaughton is a partner with The MacNaughton Group and a managing partner with BlackSand Capital.
Units in the eight-story buildings, which will each be 100 feet tall, range in size from 850 square feet units to 6,000 square feet.
No price ranges for the units were given for the project, which will be built adjacent to the Bloomingdale's department store under construction at the state's largest shopping mall.
The project, which was first reported by PBN, is scheduled to start in mid-2014, with a completion date in 2016.
http://www.bizjournals.com/pacific/news/2014/03/05/ultra-luxe-condo-project-at-ala-moana.html