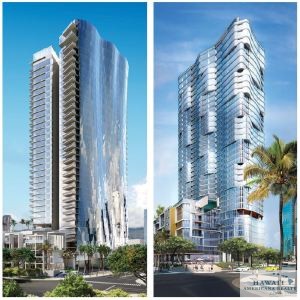 More than half of the buyers in The Howard Hughes Corp.'s first two luxury condominium towers in Honolulu are from Hawaii, with the remaining buyers from Japan, Canada, China, Korea, Australia and the Mainland, the Texas-based developer said Friday in a letter to its shareholders.
The Howard Hughes Corp. (NYSE: HHC) said that 25 percent of the buyers of the total of 482 units in the Anaha and Waiea towers under construction in Kakaako — which, combined, are more than 80 percent sold — are from Japan, while about 10 percent are from the Mainland U.S.
"The sales to date demonstrate the pent-up demand for quality residential product in the urban core of Honolulu, and the broader undersupply of housing on the island of Oahu," David Weinreb, CEO of The Howard Hughes Corp., said in the letter. "Despite the increase in recent development activity on Oahu, current housing production remains near historic lows."
Oahu needs to produce about 4,000 units annual simply to meet existing demand, according to the University of Hawaii Economic Research Organization.
Honolulu single-family housing permits in 2014 totaled only 809, resulting in an ongoing shortfall that is difficult to close due to the lack of available land for development, the developer said.
"2014 was also a seminal year in progressing the next phase of projects at Ward Village," Weinreb said. "In November, we obtained approval of the Ward Village Gateway, two towers designed by Richard Meier & Partners that will frame the initial portion of our four-acre community park space, connecting the core of the community from the harbor to a planned rail stop in the heart of our site. We also made progress on plans to bring a major grocery store to the neighborhood."
In May, the developer signed a lease agreement with Whole Foods Market for a 50,000-square-foot store that will become its Honolulu flagship store.
In addition to Whole Foods, The Howard Hughes Corp. said its plan for this block includes additional retail and over 400 residential units, designed by internationally renowned architects Bohlin Cywinski Jackson who are probably best known for their work creating flagship Apple stores. The developer received approval for this project in February.
"Our focus on bringing the top architectural talent from around the globe to Hawaii is something that we believe will further separate Ward Village from its competition, creating a community that is unique not just in Hawaii, but benchmarked against other great urban master plans across the globe like Hudson Yards in Manhattan and Battersea Power Station in London," Weinreb said.
Duane Shimogawa Reporter – Pacific Business News