Amenities mean everything when money is no object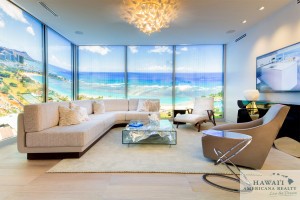 In a model unit of the planned Howard Hughes Corp.'s Ward Village in Kakaako, which will soon be home to two ultra-luxury condominium buildings called Waiea and Anaha, and where a yet-to-be-built penthouse.
"Wave at the toilet," Shanefield, the project's development manager, tells a guest.
With a flutter of the hand, the lid of the electric toilet, which is made by Toto and retails for around $2,500, opens as if by magic.
From start to finish, the user never has to touch the lavatory.
Welcome to the world of high-end amenities that are now becoming more and more standard in new condos and homes in Hawaii. While Waiea and Anaha won't be ready for two years, sales began last month. And, while members of the sales team declined to disclose numbers, they say that units, ranging from 727 to 3,500 square feet and priced from $500,000 to more than $20 million, are selling at a brisk pace to high-end buyers who are flush with cash and who want the best in the latest high-end amenities.
What buyers are looking for now in amenities is function. They want all the "extras," but not extras such as, say, a gift-wrapping room, or four-inch granite countertops that drive the price of a condo up, when a one-inch countertop will do.
They want things, but they want things that they will actually use.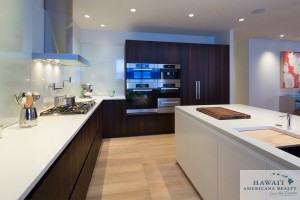 "Simplicity seems to be a theme for both the high-end clientele and your median-priced home buyer," said Ryan MacLaughlin, a Realtor with Island Sotheby's International Realty on Maui. "Both young and old are looking for the more comfortable, smaller-sized homes with amenities at their fingertips. They are not looking for the mega house or the five-car garage, or the Olympic-sized swimming pool. They seem to be driving their economically efficient car to their more conservative-sized smart home where they can run everything in the home from their iPhone or Pad, and be able to take a dip in their pool in their very private backyard."
Indeed, but while they don't want an Olympic-sized pool, they do want an infinity pool, which Anaha will have — in some units. And, if they don't want a mega-sized home, they want one that makes them feel like they are truly living the quintessential Hawaii lifestyle. Many are moving in because he wants a place where he can maintain a healthy lifestyle.
"The first thing we capitalize on is the view or whatever natural attributes that are obvious," said Peter Vincent of Peter Vincent Architects. "That's timeless, but it continues to be a more casual lifestyle. People aren't looking for a lot of formal spaces. People live in Hawaii because they like the casual lifestyle. There may be elegance, too, but typically they are not looking for formality and really embrace the outdoor lifestyle."
More than ever, people are willing to pay for that lifestyle and the amenities that make that possible. That includes building homes that are open and airy, rather than compartmentalized.
Home buyers want "flexi-rooms" that can serve dual purposes.
"The key amenity is being outdoors," said Race Randle, director of development for the Howard Hughes Corp. And that includes while showering, which is why outdoor showers are very popular in single-family homes.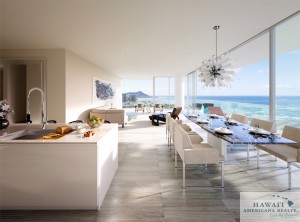 Rob Kildow, principal broker of Hualalai Realty on the Big Island, sells homes at the resort that range from $5 million to $27 million. People who buy them want to feel like they are outside when they are inside, and vice-versa.
"There is no difference from being outside and inside," he said.
Once inside, buyers want the best. Kitchens at the Hughes projects have quartzite countertops, with no visible handles on the cabinets. A wine cabinet near the refrigerator, which retails for around $8,000, holds 106 bottles. The Miele refrigerator, which retails for around $8,300, through the power of technology automatically lets a repairman know when it needs to be repaired.
Speaking of automation, it is now considered a standard amenity. With the widespread use of iPads and other tablet computers, everyone can open their blinds without touching them. They can control the temperature, and high-end security systems let them keep an eye on home while they are away.
While the kitchen has always been the hub of many a home, Marion Philpotts-Miller, a principal with Philpotts Interiors in Honolulu, said that is truer than ever today. Separate, alcoved dining areas are out. Developers are concentrating on installing the best appliances, particularly Miele. The Ward Village buildings have Miele ovens — a convection oven, a regular oven and a steam oven – that retail for around $2,000 to $3,000 each. They also feature Miele coffee systems that retail for around $3,000 that Randle calls the best in the world, along with a sliding warming tray for mugs.
Light serves as another functional amenity.
"They like the lighting systems that are much more sophisticated," Philpotts-Miller said. "Between art lighting and pin stops on floral arrangements to the uplighting of coral walls, it's become much more of an art and discipline."
Outside the residences, the amenity levels of the Ward Village buildings include playgrounds, putting greens, open-air dining areas, steam rooms, bars, tennis and volleyball courts, cinemas, media rooms and libraries.
Another major condo project currently underway in Honolulu is ONE Ala Moana, which is being developed by a partnership of the Howard Hughes Corp., The MacNaughton Group and the Kobayashi Group. The building is expected to be completed by the end of the year, and will include a wine-tasting room as well as a chef's kitchen where residents can host personal chef-inspired dinner parties.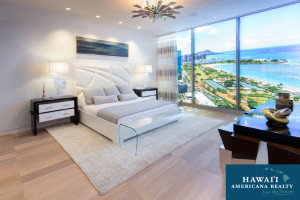 Much of the work for these high-end projects is done off-island. For example, the primary architects and designers on the project are located on the Mainland, Randle said, because few firms on Oahu can handle such a large project by themselves.
Instead, Howard Hughes has contracted big-name architects Solomon Cordwell Buenz and James K.M. Cheng and paired them with local firms on Oahu, Benjamin Woo Architects and WCIT Architecture.
Randle said the pairings work because while the larger firms plan the overall grand vision of the buildings, the smaller firms are local and can handle the day-to-day issues that come up, such as making sure the buildings meet Hawaii building codes.
Despite the trend toward simplicity, many mega-rich buyers still want mega-amenities, and Kildow knows them well. He said the most over-the-top amenity he has seen is one homeowner who put in a $3 million kitchen.
Jeffrey Long, the founder of Honolulu architectural firm Long & Associates and known for his opulent homes, also has had some over-the-top requests.
"One homeowner requested that we design a Star Wars theater for his residence," he said. "The result was spectacular, with a life-sized C-3PO and R2-D2 and blue LED lights. We also designed a home with an infinity pool on the upper level, right outside the living room, capturing the spectacular views.
Long said his firm also has had requests for water parks, indoor car displays and elevators that bring the cars up from the basement.
But one request really stands out.
"The craziest thing we [designed] for a client was a 20-person home bomb shelter," he said.