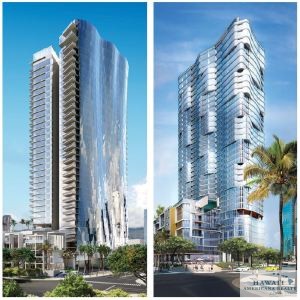 The Howard Hughes Corp. said Monday it has secured a $600 million construction loan from Blackstone Real Estate Debt Strategies to built the Waiea and Anaha condominium towers at its Ward Village in Honolulu.
Dallas-based Howard Hughes Corp. (NYSE: HHC) broke ground on Waiea, across from the Ward Entertainment Center, in June, and started work Saturday on the Anaha tower, which will be built on the site of the former Pier 1 Imports store diagonally across the street.
Howard Hughes Corp. is also planning to build a Whole Foods Market-anchored mixed-use condo tower on the site of the former Nordstrom Rack less than a block away.
Staff Pacific Business News