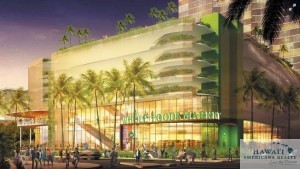 The Howard Hughes Corp. officially began construction Thursday on its third mixed-use condominium tower in the Honolulu neighborhood of Kakaako, with a groundbreaking ceremony for Aeo, which includes what will be Whole Foods Market's flagship Hawaii store.
The Texas-based developer already has two other residential towers under construction, Waiea and Anaha, which are located nearby within the 60-acre Ward Village.
"My family is looking forward to calling Ward Village home, that will soon have thousands of families calling this neighborhood home," said Nick Vanderboom, senior vice president of development for The Howard Hughes Corp.
The 54,000-square-foot Whole Foods Market is expected to open in about two years, possibly the first quarter of 2018, with Aeo opening sometime after that.
Todd Apo, vice president of community development for The Howard Hughes Corp., told PBN that it expects to start demolition of the existing that Office Depot building on the lot toward the end of March. Office Depot is currently moving out of that space.
Demolition will begin with the warehouses in the back of the Office Depot first, with construction fencing coming up around the project in mid-March.
The parking lot of the project is expected to remain open until the end of March.
Bohlin Cywinski Jackson is partnering with Architects Hawaii Ltd. on the design of the project. Layton Construction is the general contractor.
Bounded by Queen and Kamakee streets, the block is behind the Ward Entertainment Center and also contains the former Nordstrom Rack.
Plans for Aeo also include 12,000 square feet of retail and more than 700 parking spaces in a block-filling podium to be topped with a narrow high-rise offering about 466 residential units.
No development cost was given for the project, which is named after the Aeo stilt bird that once lived the area.
"[The project] is consistent with our mission of honoring the past as we look to build a better future for this community," Vanderboom said.
In November, the developer said that close to 35 percent of its units in Aeo are under contract.
Howard Hughes also is developing a 43-story, 424-unit mixed-use mostly affordable tower that will include a Longs Drugs ground floor store called Ke Kilohana at 988 Halekauwila at the corner of Ward Avenue and Halekauwila Street.
The project is expected to satisfy the developer's affordable housing requirement set by state regulators.
Pacific Business News