The Symphony Honolulu is a condominium project proposed for the corner of Kapi'olani Boulevard and Ward Avenue. The pedestrian-oriented, urban project will include approximately 400 residential units, retail shops, recreational facilities, and open space, designed with energy-efficient technologies. The 3.35 acre development is located in the Mauka Area of the Kaka'ako Community Development District across from the Neal Blaisdell Center.
Symphony Honolulu is the new residential condominium rising from the heart of Honolulu's Kapiolani corridor. From high-style fixtures to high-quality finishes, every Symphony Honolulu home elevates urban living to an art form. Offering panoramic views and finely orchestrated amenities, every element comes together in perfect harmony. Bring your passion for sophisticated living to Symphony Honolulu.
•    Contemporary designed one, two and three bedroom residences
•    Spacious open floor plans from 672 to 1,520 sq. ft.
•    Stylish Gourmet kitchens and floor to ceiling windows
•    Elevated Grand Terrace with inviting lap-size infinity-edge pool, Jacuzzi spas, fitness center, private theaters, social dining room, entertainment cabanas, guest suites and  dog park.
The 400-foot condominium tower features:
Residential Units:
288 market price units
100 reserved units
Total residential area: 500,000 square feet

Commercial Units:
Auto showroom, service facilities, offices, restaurants, and retail stores
Total commercial area: 80,000 square feet
Green Building:
Designed with USGBC LEED certified criteria
PV solar panels
EV charging stations in garage
Gray water reclamation
Education Center for energy efficient technologies
Seventh floor terrace lounge
All-inclusive, state-of-the-art fitness center with yoga studio
Private move theater multi-media rooms
Social dining room with catering kitchen
Inviting infinity-edge pool and Jacuzzi spa
Entertainment cabanas for outdoor dining
Elevated spa and daybed retreat
Shaded lounges and barbeque dining stations
Owner' storage
Wellness center
Guest suites
Saunas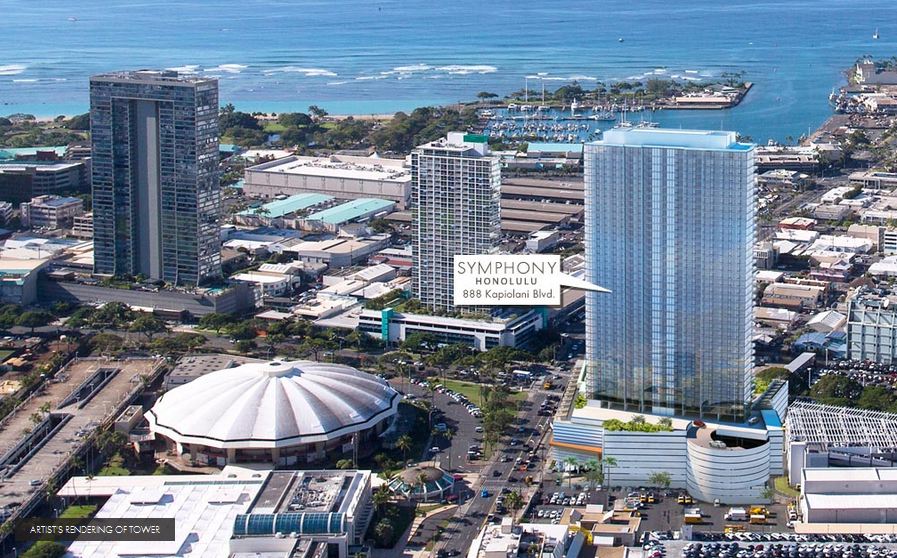 Symphony Honolulu In The News
[catlist id=997 numberposts=6 excerpt=yes excerpt_size=30 exclude_tags="kakaako condos"]