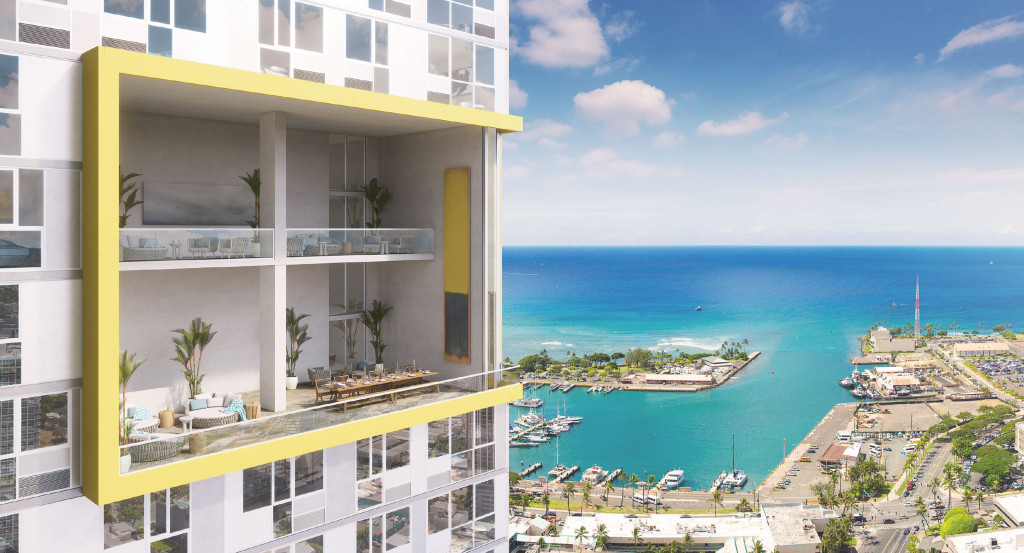 The Howard Hughes Corporation (NYSE: HHC) announced Friday that it is launching sales for the reserved housing program in its newest Ward Village project, Ke Kilohana at 988 Halekauwila St.
Applications will be available from Saturday, March 26 until Sunday, April 3, at the Ke Kilohana Sales Gallery in the IBM Building at 1240 Ala Moana Boulevard, open daily from 10 a.m. to 5 p.m. Completed applications must be returned in person between April 8 and April 13. Buyers will be selected in a lottery to be held April 15 via webcast, with home selection beginning on April 16 based on lottery placement and running throughout April.
In a statement, Ward Village explains, "The lottery will simply assign an appointment date, according to the selected order, for the buyer to come in to select his/her home and complete the contracting process. Buyers will be informed of their appointment time via email."
There are 375 reserved housing residences reserved for qualified buyers in the 43-story, mixed-use condominium high-rise. These include one-bedrooms priced from $323,475 to $442,246, two-bedrooms priced from $473,789 to $538,612, and three-bedrooms priced from $521,774 to $560,774. The tower also includes 49 market-priced residences.
Competition for the reserved housing units may be stiff — Ward Village notes that more than 3,500 people attended informational seminars on Ke Kilohana in over December, January and February.
A. Kam Napier
Editor-in-Chief
Pacific Business News
---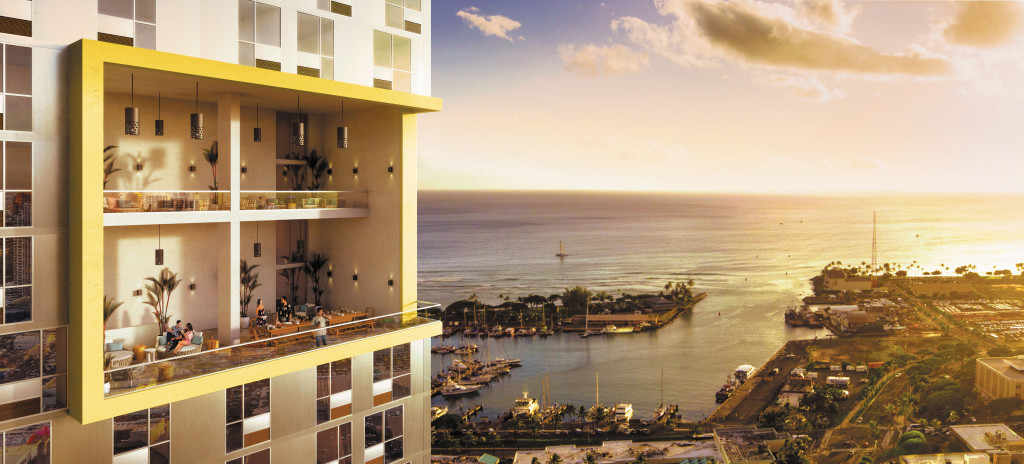 Reserved Housing Application packets may be obtained from the Ke Kilohana Sales Gallery starting Saturday, March 26, 2016 at 10:00 a.m, and will be available for pickup through Sunday, April 3, 2016 at 5:00 p.m. Applications will not be available for pickup after Sunday, April 3, 2016 at 5:00 p.m. Prospective purchasers should carefully review the information contained in the Reserved Housing Application packet to determine whether all eligibility requirements are met.
The earliest date that completed Reserved Housing Applications will be accepted is Friday, April 8, 2016 at 10:00 a.m. Reserved Housing Applications will not be accepted prior to this time. Applications must be hand-delivered to the Ke Kilohana Sales Gallery between Friday, April 8, 2016 at 10:00 a.m. and Wednesday, April 13, 2016 at 11:59 p.m. to be eligible to participate in the Lottery. Only substantially complete applications will be accepted. Applications delivered by email, facsimile, mail or courier will NOT be accepted.
Completing the application packet will include;
1. Notarized Affidavit of Intent to Purchase and Reside in a Designated Owner-Occupant Reserved Housing Residential Unit;
2. Notarized Affidavit of Eligibility to Purchase a Reserved Housing Unit in the 988 Halekauwila Condominium Project;
3. 988 Halekauwila Registration Agreement – Reserved Housing Owner-Occupant; and
4. Loan Pre-Qualification Letter provided by Honolulu HomeLoans or First Hawaiian Bank.